A becoming staple to house of Prada, the Sidonie.
You've probably seen this bag floating around on the arms of celebrities and influencers alike. So is it time this curvaceous bag gets commended for its practicality? Or is it just some impractical eye-candy.
I wasn't initially drawn to The Prada Sidonie. Having mainly seen the bags with a huge black strap down the middle; I didn't find that it would be something I'd like to fashion. Even-though the shape was quite a statement, it's only been as of late that I've taken a dive into Prada land all thanks to the Sidonie.
Prada to me was always sophistication, maturity and the bag of a business woman. But lately having seen the uprise in influencers and celebs wearing Prada it's become more and more visual to me that Prada is that, fun and chic brand. Executed in the way only Prada knows how.
The iconic shapes that Prada has launched in recent years, such as the Prada Sidonie (2018/2019 launch) and Prada Cleo & Cleo mini (2021 launch) has revamped the Y2k style and modernised the 90s for the surge of 'vintage' that is returning to the heights of fashion. Paired with Prada iconic colour palettes it's amazing to see this combination of style that meshes current, future and past fashion effortlessly.
As much as I love the Prada Cleo also, I'll have to do a review at a later date on that. As this moment is reserved for the Sidonie.
Here is my Review of the Prada Sidonie.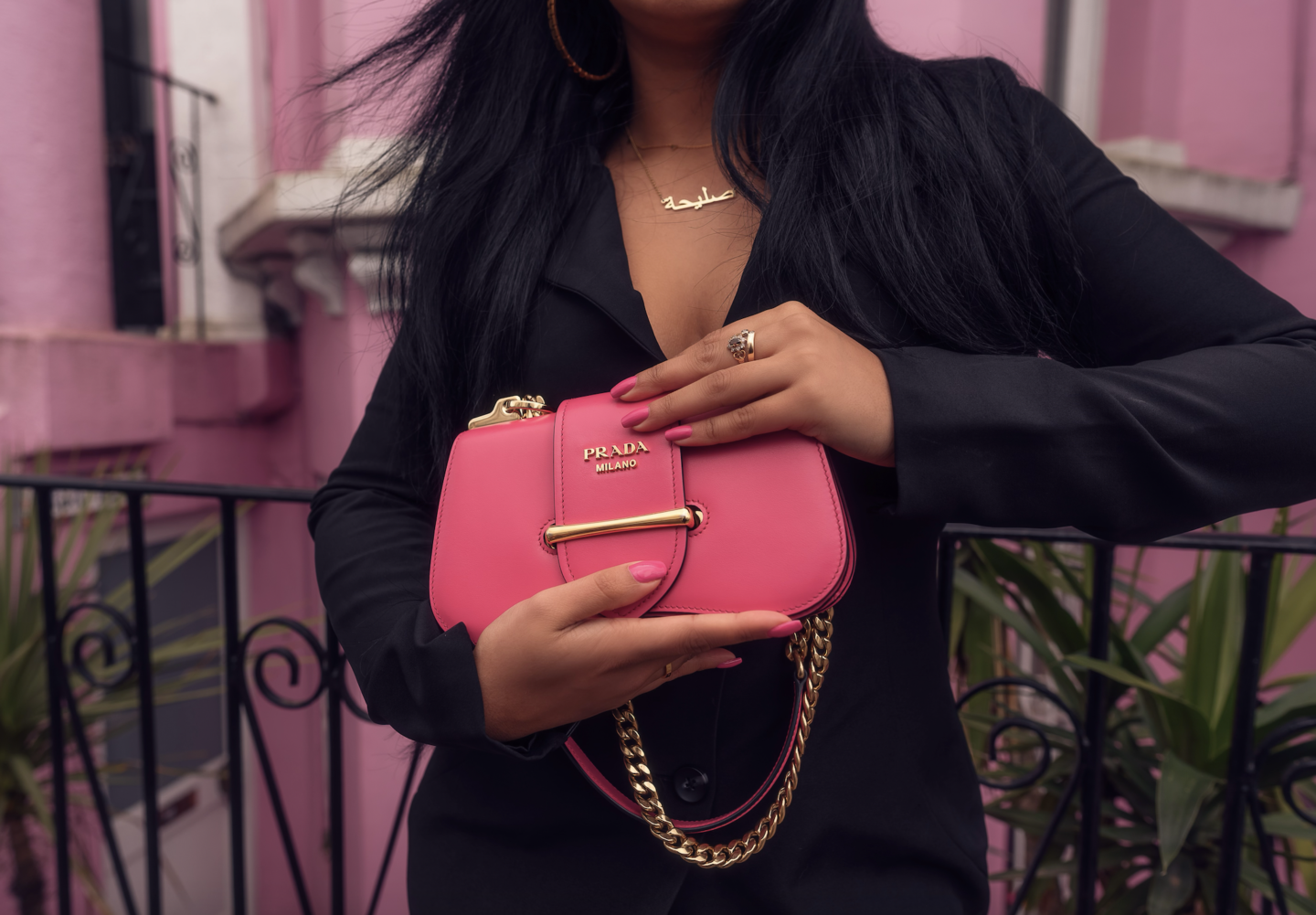 So first things first.
The Shape & Colour
Like I said above, I had only really ever seen the Prada Sidonie with its statement black flap, and although a fashion statement in itself, it never really resonated with my style. (Although if it's 'a bit of you' then why not!).
It, however became a whole 'new kettle of fish' for me when I discovered the incredible block colour options. In my opinion it just showed off that iconic Prada shape so much more.
The curvature of the bag makes it extremely feminine while the bold lines and statement Prada branding on the forefront give it that 'look at me now' boldness that I would want from a statement piece.
The Size, Styles & Price Points
Seemingly available in 3 (main) styles the Prada Sidonie comes in a crossbody, belt bag and shoulder bag style; The crossbody being single flap and the shoulder bag being double, all using the single bar at the front as a bag closure.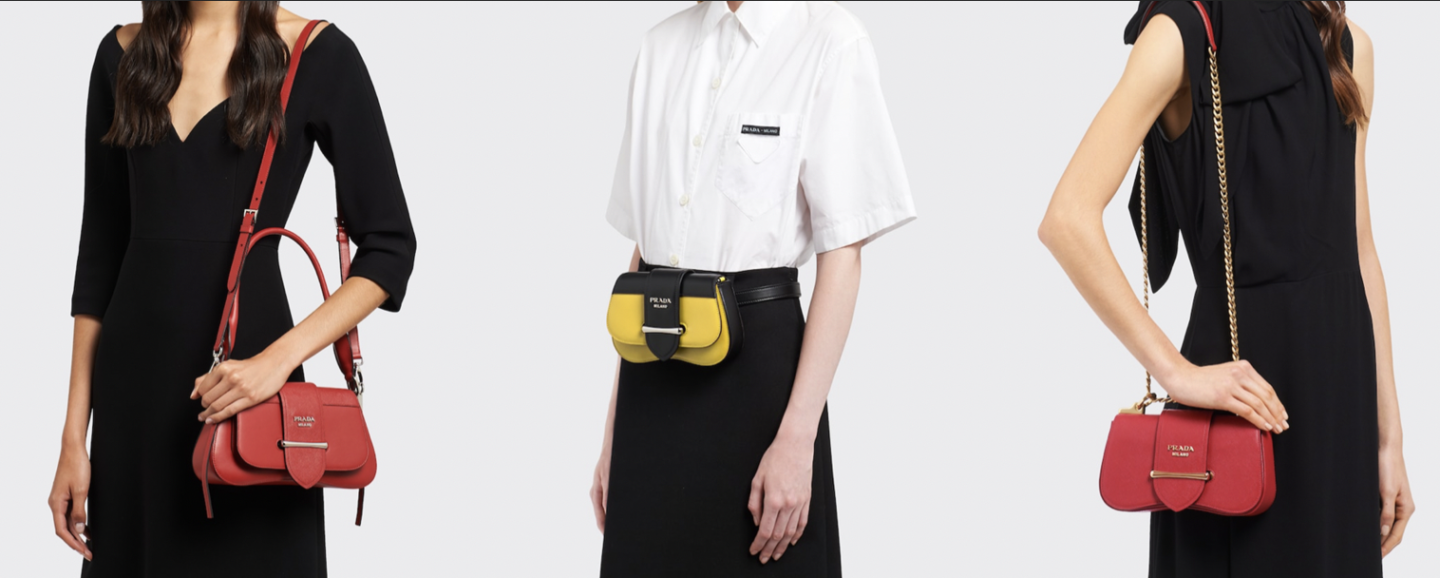 The Prada Sidonie cross-body has a chain link strap which can be doubled up and used as a shoulder bag also. With the dimensions of H: 12cm x L: 6.5cm x W: 21.5 com I feel the crossbody is a really practical day to say choice for a bag, with the added versatility of being able to wear as a shoulder bag or cross-body. I also believe the chain strap is more durable than a leather strap in the long run, but that being a personal preference.
The price points being (an average of, new) £2,600 for the shoulder bag (pictured above on there far left). £2,100 for the crossbody (Pictured above on the far right). £1,400 for the belt bag (pictured in the above centre).
(Prada do also do other variations of the bag such as Ostrich leather, Avg £5,000 price point; Or the Sidonie mini. But these vary on availability and price point)
The Material, Wearability & Conclusion
Having used the Prada Sidonie crossbody for a fair amount of time now I've really understood the versatility of the bag, comfortably fitting a compact, keys and my iPhone 12pro max, with space to spare, I see it as a convenient yet eye catching practical bag. Even in a statement colour it's extremely wearable with both casual and dressy looks (as pictured below) all due to it being a statement piece of its own. The chain link strap also having a leather strap making it comfortable for usage.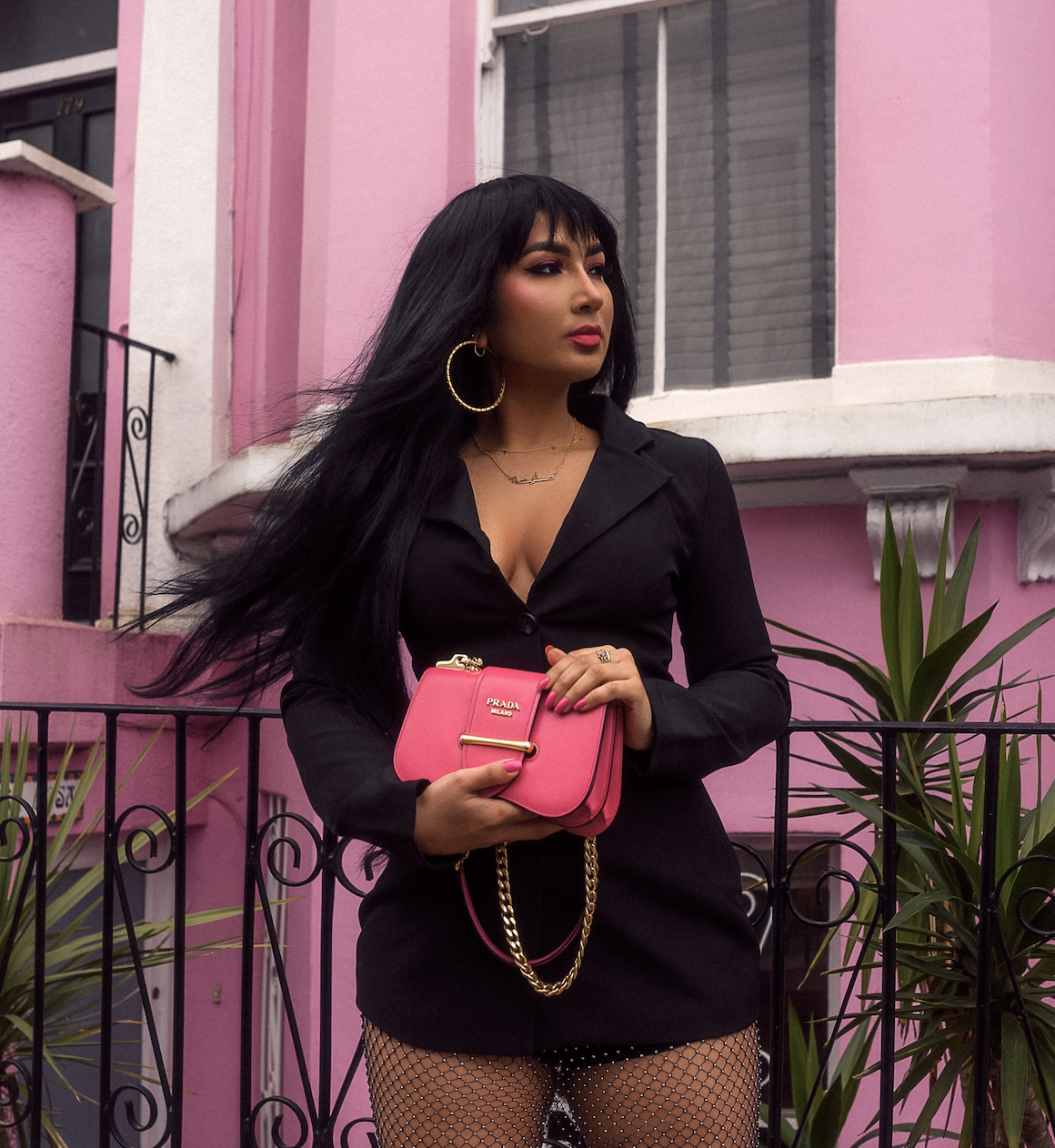 Available in usual materials as leather and Saffiano leather (a textured leather) they are quite durable and an easy to wear bag for moderate use.
In my opinion, this bag is a great for any collector or even somebody either venturing into High-Fashion brands as well as someone looking for that single iconic piece.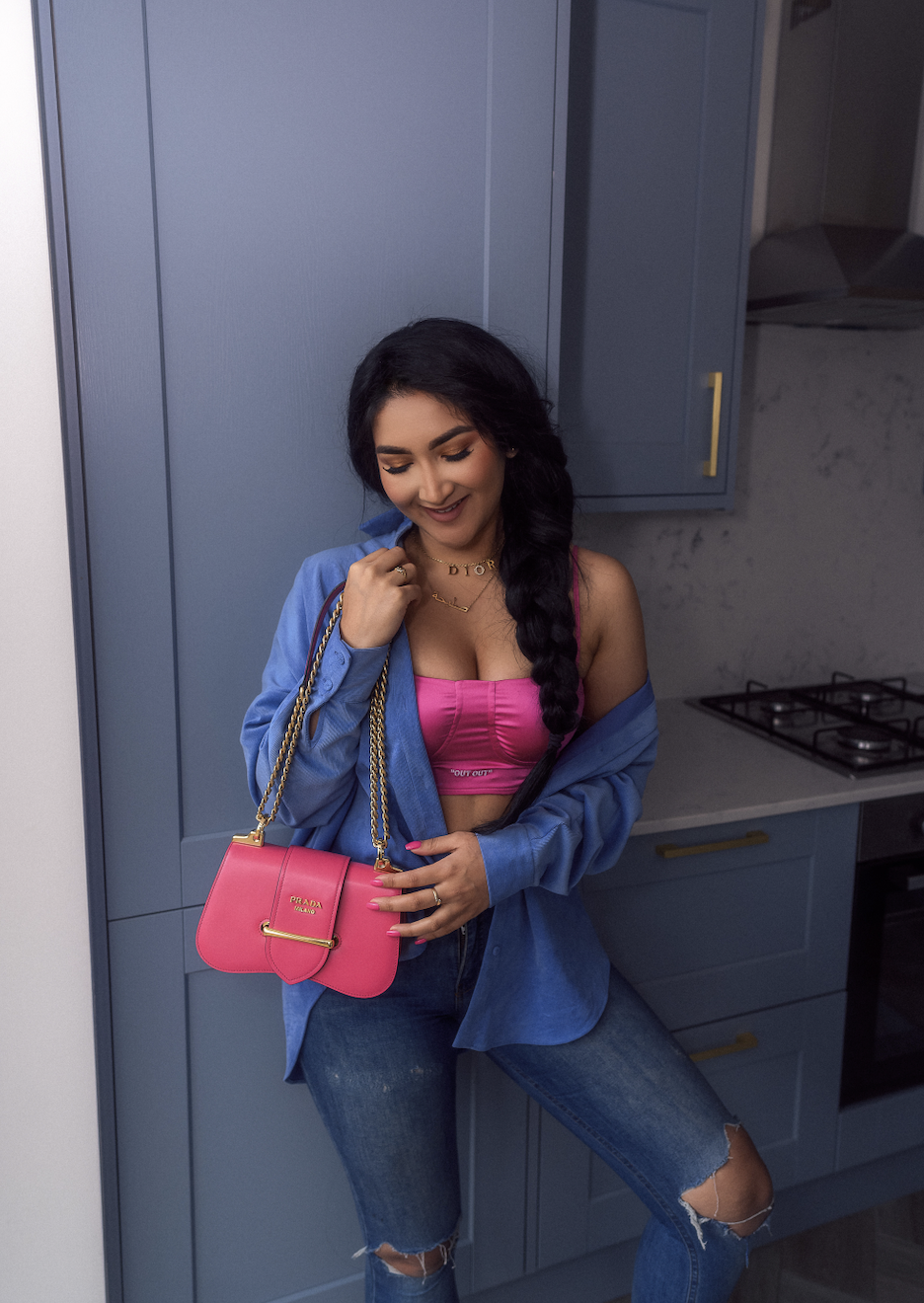 To see my video review, check out my YouTube video.